To Speed Up Your Carry Out Orders,
Please Call In Your Selections Prior To Arrival.

Mama Stella's carry-out service is usually for one person or a family, but can be tailored to take out for a special event for a large number of people. We would, of course, require an advance deposit and at least 48 hours prior notice to prepare your food.

Mama Stella's carry-out menu is a shortened, easier-to-carry-with-you version of our standard sit-down menus. If you usually drop by and order your to-go in person, you have of course had the advantage of being able to order from our standard menus in addition to our Daily Specials Board. Now, all of you reading this will be able to choose from all of the menus - with the exception of the wine list, and the exception of any other beverages. You will be able to call in your order ahead of time for pick-up on your way home from work, or on those occasions when you really don't want to dine out, but you also don't want to cook. Just let us prepare your lunch or dinner for you. Or give us a call at (301) 375-6105 and we'll let you know if your favorite special is on the menu for the day.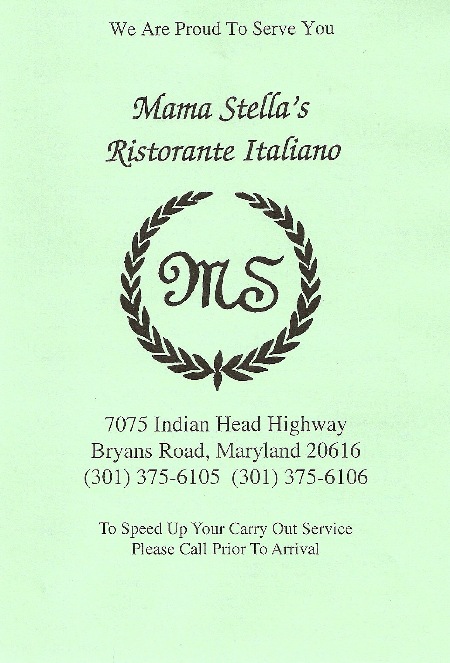 Page 1

OUR CARRY-OUT MENU IS NOW THE SAME AS THE REGULAR MENU. YOU CAN NOW ORDER YOUR FAVORITE DISHES FROM OUR REGULAR MENU.




HOURS OF OPERATION

MON: 4 PM - 10 PM
TUES - FRI: 11 AM - 10 PM
SAT: 4 PM - 10 PM
SUN: 4 PM - 10 PM



Orders Need To Be Placed At Least

One-Half Hour Before Closing

Kitchen closes at 9:30 P.M.